With only nine days left in the school year (I'm a full time kindergarten teacher), I've had little time to hole up in the crafty nook to play with paper to my heart's content. Thankfully, these little accordion-folded rosettes (or do they look more like prize ribbon medallions?) are quick to whip up and glue onto lollipop sticks: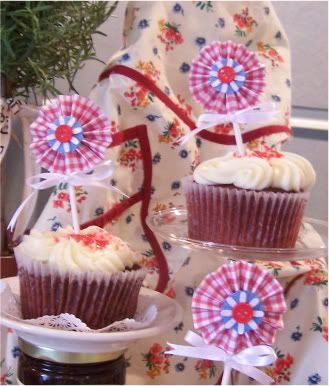 Topping cakes and cupcakes, they bring lollipoppy or pinwheel-ey fun to traditional party desserts!
*****
June 18 is the date for my Polka Dots and Picnics Bunting and Cupcake Topper crafty class! You'll be able to reserve your spot soon through
The Peacock Cafe
for $30, and you'll need to make sure you bring a glue gun/low-temp melt glue sticks, sharp scissors and a smile! You'll leave with party bunting and cupcake toppers to complete your next picnic or summer party:
Three cheers for summertime fun!