Welcome to ~*you*~, new and returning blog visitors!
My name is Michaele (pronounced My-kul, like Michael Jordan) and I'm so glad you stopped by to visit! Whether you've found your way here from
Lisa's
master
list of links
, or from my first blog,
Kindergarten's 3 R's
(there's a giveaway going on there too for teachers/educators/homeschoolers/early childhood advocates!), I hope you'll enjoy your stay.
Twigs and Tulle is my second blog, created after I realized that at forty-one years of age, I compartmentalize my life between home and work: I'm a full time kindergarten teacher who immerses herself in the land of finger painting, math, literacy, and hands-on explorations by day, and a wife, mother, collector and crafter by night and weekend. Consequently, I have many teacher friends, an ever-growing posse of crafty friends, and quite a few (most of them Alaskans, go figure!) who traipse happily between both worlds. Twigs and Tulle is where the non-kindergarten teacher part of my soul comes to share, create and explore.
I can be a bit rant-y at the ~other~ blog, though I do try to balance it out with colorful bulletin board ideas, silly stories, and helpful resources... darn you NCLB.
Ooh, glitter! Pretty paper! Ribbon!
That's me, Michaele-Who-is-Trying-to-Find-Balance. Crafty interventions seem to help.
If you're a fellow blogger, I am SO looking forward to dropping by for a peek, a read, and hopefully a lengthy meander. Lisa's... well, I suppose it's her brainchild, though it seems more to me like her
heart
child... blogland event has introduced me to so many creative and friendly people, an incredible gift.
My present back to one lucky visitor?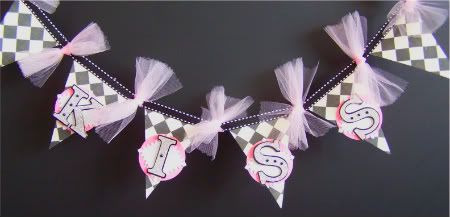 A mini-bunting, made by me, of paper, tulle and ribbon... it's a small token of kissy affection, spanning only one and a half feet across in pennants, though the tying ribbons on either end lengthen it to almost three feet.
Pin it to a corkboard or pinboard display, drape it across a mirror or even tack it up above your own crafty workspace. It folds away if you'd rather use it for future valentine or anniversary celebrations, but no matter when or where you choose to display it, I hope you'll enjoy, enjoy, ENJOY!
To win, please post a comment ~on this post only~, and
make sure I have an email address or blog link
(with contact info) for you in case you're the winner.
I'll be drawing the winner on February 17!
Happy reading!