Last year, one of my New Year's goals was to participate in my first ever crafty exchange.
Sarah at Makin' Projiks
hosted her Heart to Heart swap, and I was thrilled to be chosen to participate!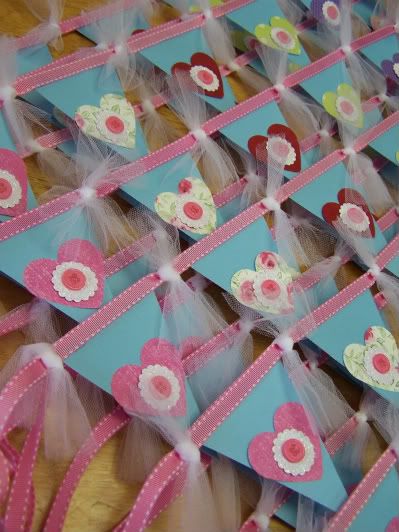 I made blue bitty banners, and sent them on their way to Sarah who was collecting goodies from all the swap members, divvying them up, and mailing them back to us all so that we'd have one valentine from each crafter. Look at what I received last year:
Because the flood destroyed all of our February and October decor, I kept my fingers crossed that Sarah would once again hold the
Heart to Heart Swap
.
Finger-crossing works!
I've spent this snowy-ish weekend crafting away in the nook, playing with paper, ribbon, adhesive, stickers, buttons, beads and tulle:
Yes, I ❤ the Heart to Heart Swap!
*****
Does anyone out there know of any July 4 or Halloween crafty swaps? Let me know in the comments section!