My apologies for the lack of posts: I'm back to school full time and for some reason, our internet/phone service has been spotty at best since the summer heat kicked in mid-June. I'll be able to log on for two minutes, and then *poof*, we're offline for twenty. ~Poof~ and I have service for half an hour, then *poof*, it's gone again. So much for posting, and so much for visiting everyone else's crafty, beautiful blogs!
You can't tell, but I'm typing QUICKLY, trying to beat the next *poof*.
There's an upshot to the on-again-off-again internet dilemma though: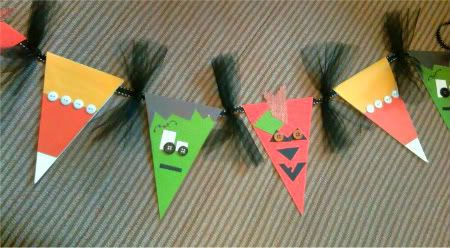 More time in the crafty nook!
I'll be participating in a Halloween Ornie Swap in late September, so I played with paper, buttons, ribbon, and my new favorite crafty stuff: spray adhesive! Oh, the speed! Oh, the ease! Ooooohhhhhh..... the mess from the overspray. I'll figure a less goopy technique out soon I'm sure, but for now, I'm spraying into my trash can in an attempt to not glue my flip flops to the carpet.
You know how it goes.
Are you crafting anything fun for Halloween?