Hello
Our World Our Art
participants, and welcome to my blog, Twigs and Tulle! I'm so glad you're visiting, and I'm looking forward to exploring your art and blogs in return.
(click on the photo above to be taken to Lisa Swifka's lovely blog, A Whimsical Bohemian for more OWOA information)
I'm your host, Michaele (pronounced
My-kul
, "like the boy's name") Sommerville, and I've been creating and crafting since I was a little girl.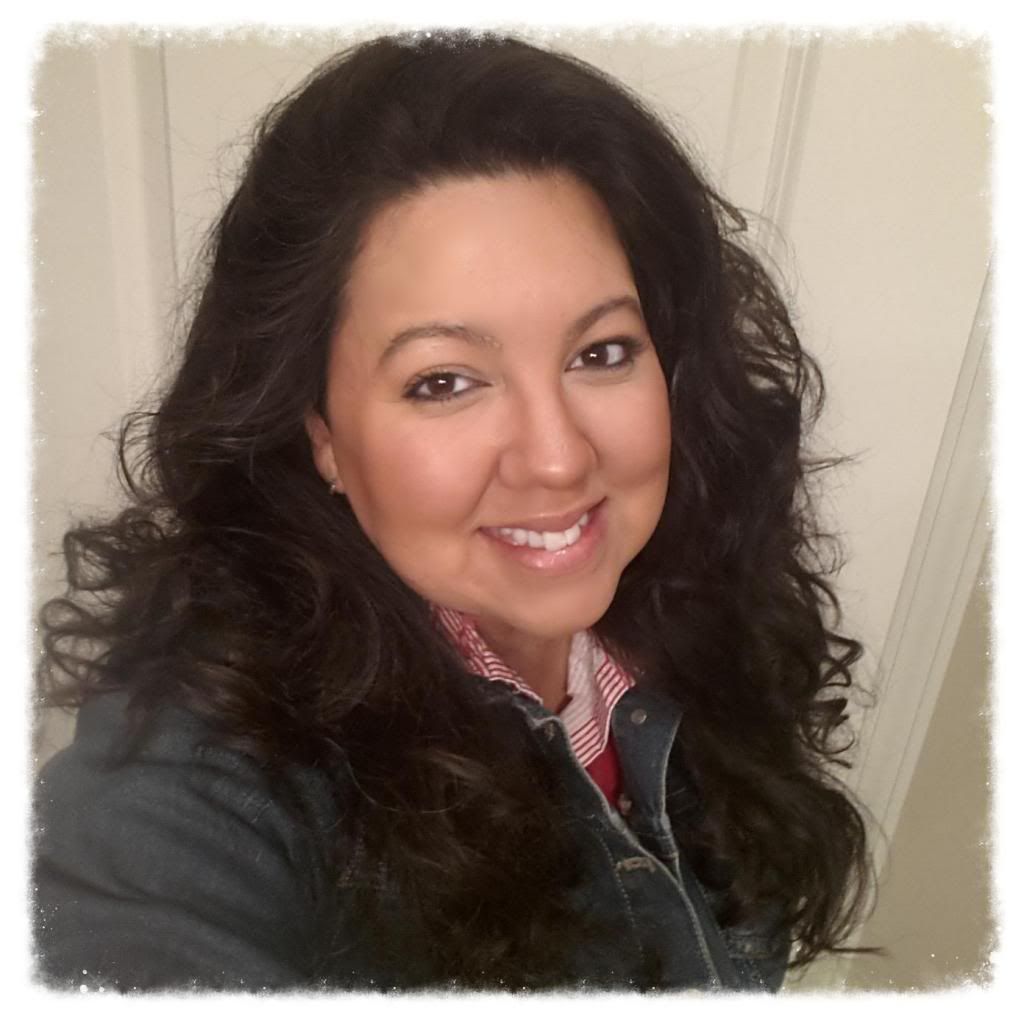 I didn't consider myself fueled by
artistic passion
however, until my thirties, when I fell in love with a soldier and we began our military family life together. Living in new states and having the opportunity to soak in the flavor of each locale made me realize just how much I gravitated toward the art featured in museums, shop windows, art fairs, antique stores and craft bazaars. It's a trait I'd never recognized in myself before because prior to our first duty station, I had been constantly surrounded by family, friends, colleagues and acquaintances who all "did something" in addition to their day jobs. Where was this artistry-rich environment? Alaska.
I'm not a full time artisan or crafter. I'm a wife, mother, and kindergarten teacher, having taught four, five and six year olds for close to twenty years in Alaska, New Mexico and Kansas. I've been a single mom and have held down the fort while my husband deployed, and have dealt with the ins and outs of public education long enough to recognize my need for emotional and creative balance, and a sanctuary away from politics, debate and stress. Crocheting was my first creative outlet as a child, and cross stitch soon followed. Putting up bulletin boards and regularly using glitter, paint and play dough with my kindergartners probably enables me to add (large-scale) scrapbooking, painting, sculpture and altered art to my creative repertoire, but those projects have always been compartmentalized in my mind as work-related. Changing out of work clothes and into a tee and yoga pants so I can sit criss-cross-applesauce in front of my craft room's drawers, tubs, shelves and bins is something I look forward to most afternoons when I'm home from school.
"Handmade" has always meant
love, effort,
and
caring
to me. Watching my family and friends as they cooked, baked, sewed, spun, wove, assembled, knitted, composed and crocheted, I could see the investment of time, resources, and sentiment that was lovingly and generously poured into each gift. When I taught in Alaska, the school staff was full of quilters (or the spouses of quilters), so each wedding, birth or retirement was marked by the collaboration of colleagues to create a beautiful quilt as a memento. Can you imagine receiving a quilt where each block was created by a fellow educator? It was a remarkable place that supported and nurtured not only young children, but the creative pursuits of their teachers.
When my friends and colleagues began introducing me to their favorite hobbies and talents, I became intrigued by the tools, the processes, and the end results. With their indulgence and encouragement, I'm now fully aware that while I'm no quilter, scrapbooker or candle maker, I DO love to crochet, make collaged paper items, combine ephemera, fabric and other textures, add pops of color, decorate for the holidays and special events, write and read blogs, and create charms and ornaments with glass and solder. I don't feel stress when I'm in my crafty nook, partly because I don't pass through its door when I'm exhausted or upset, and partly because the materials I use and the techniques I choose to learn aren't mandated to me by anyone. My creative space is where I can heed my own inner voice and create items I enjoy and can share with others
away
from the constraints I feel within my formal profession, though let's be honest: teachers love jewelry!
Charm-making has become the one passion that makes it possible to combine almost all of the crafting that I like to do into one piece of wearable and/or displayable art.
Using various papers, hole punches, adhesives, and ephemera, I create mini-collages that I then encase behind glass and solder or adhere to dominoes and seal with Mod Podge.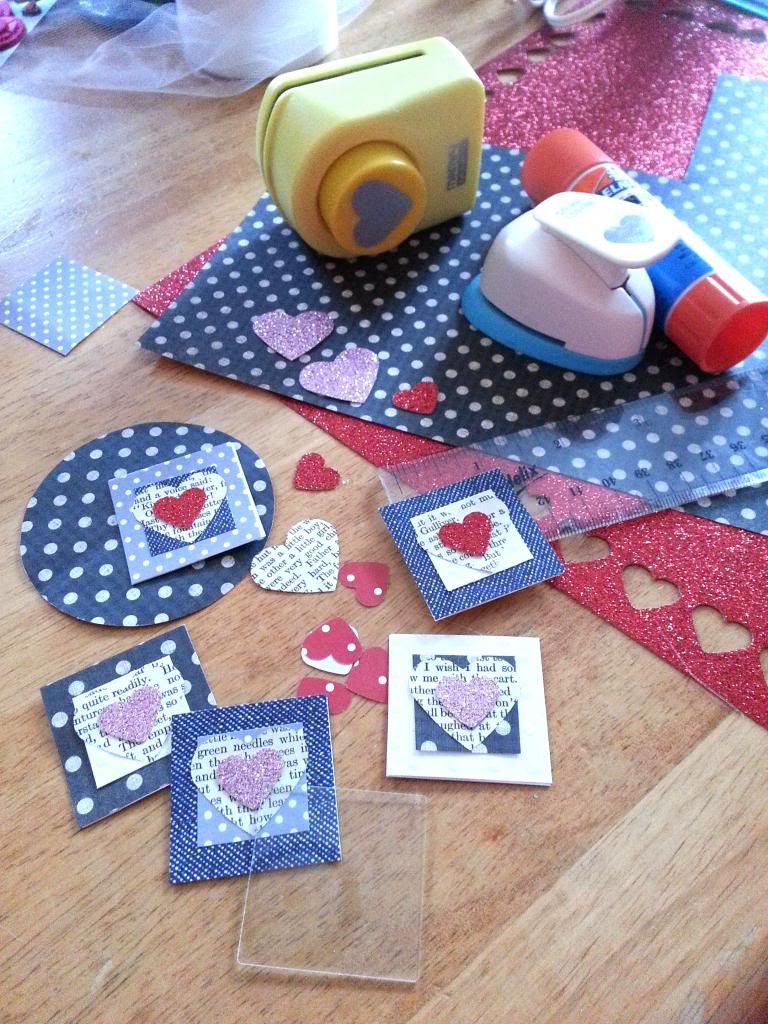 After being introduced to soldering several years ago, I finally decided to equip myself with the tools necessary so I could solder whenever the inclination struck, which frankly, has been often. Fun factoid: solder is so hot it feels
cold
when it hits your skin. I didn't learn ~that~ from a book or video! I look forward to working on larger projects when the summer begins and I'm away from the classroom for weeks at a time. Until then, my charms are available via
my Etsy Shop
.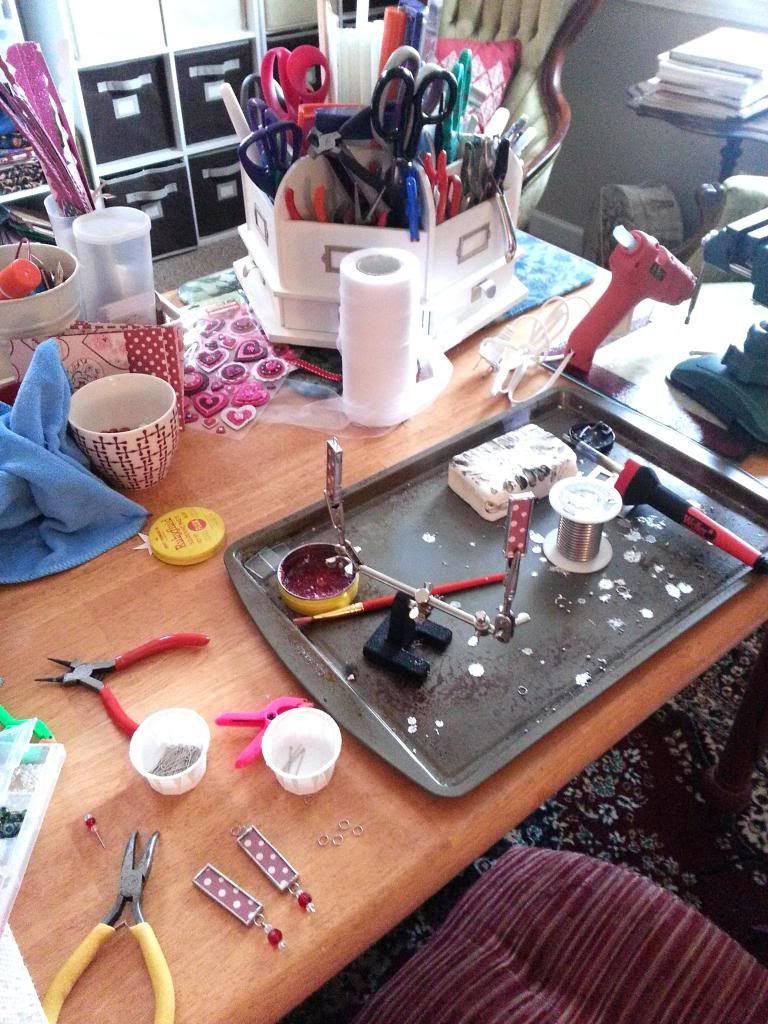 I keep my soldering wand, block of sal ammoniac, flux, solder, and a jeweler's "extra-hands tool" on an old baking sheet. Pliers, jump rings, beads, pins and small clamps are always nearby. Off to the right of my worktable is a larger vise for securing bigger/heavier ornaments. Being hands-free to solder helps immensely!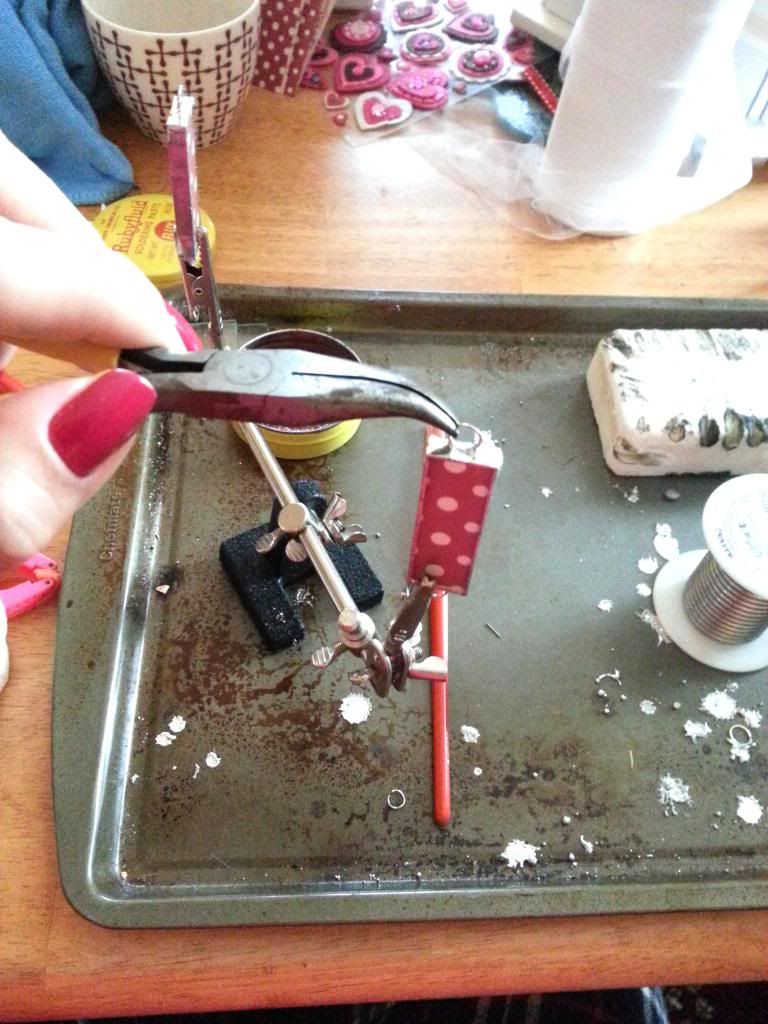 I've used 3 inch by 3 inch glass, 1 by 3, 2 by 2, and 1 by 1 "inchies" for my ornaments and charms, so I was excited when I stumbled across half-inch by inch-and-three-quarter "sticks" with which to work recently.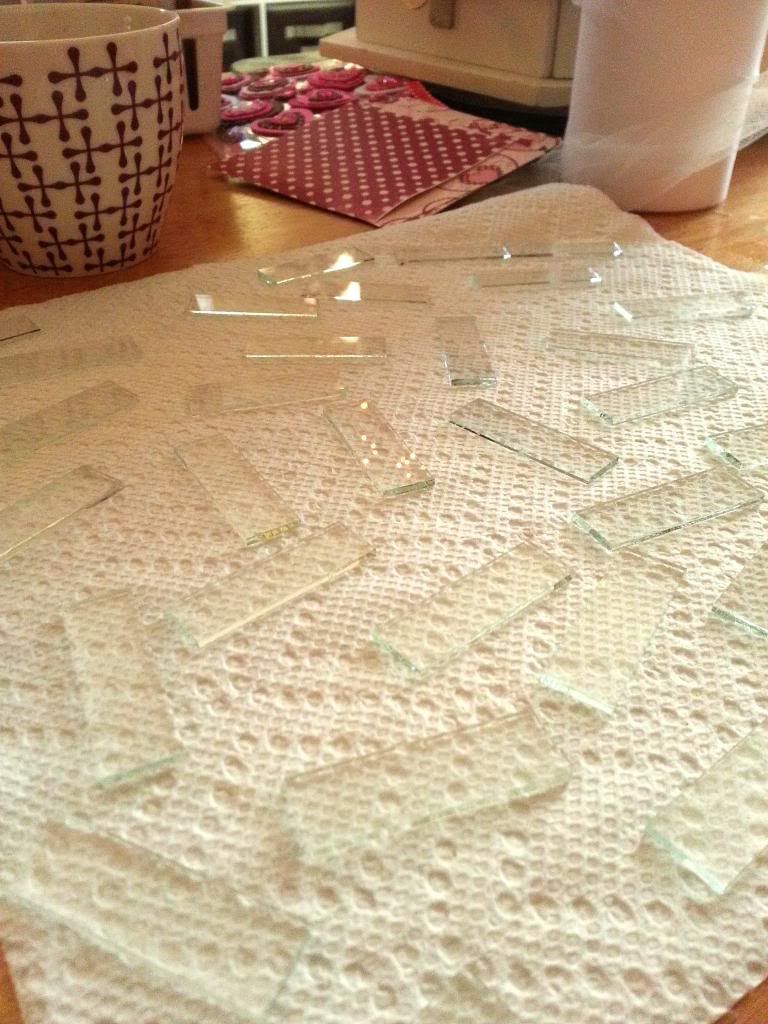 I wanted to use my favorite color,
red
, for my giveaway charm, but also wanted to share layered hearts with you. As I played with paper, the solution hit me: make ~two~ charms!
Visitors who leave a comment with a current email address will have the chance to win both the heart and the red-with-white-polka-dots charms...
one winner, two pendants
. I'll draw the winner's name on April 18 and contact him/her via a blog post here at Twigs and Tulle AND email.
Many thanks to Lisa Swifka for creating and hosting this wonderful web event, and encouraging us to reach out in friendship within this creative community. It's time for me to brew some coffee, add some cookies to a plate, and put my feet up as I visit all of you. I feel like I'm indulging in my very own art retreat from the comfort of my crafty nook!
*****
~Michaele~