... since lifelong learning shouldn't just be a goal for my students!
I've admitted to having a more-than-mild paper addiction, and regular readers know it takes a lot for me to step away from my hot glue gun. With a sheepish smile on my face however, I have to share the following:
Soldering intimidates me. Amazes me. Scares me even. Makes me fear for my fingertips and any other exposed skin I might be sporting in my crafty nook.
Odd, considering I wield a curling or straightening iron each morning (taming my mane into something presentable for work), and ~those~ things can leave the *worst* burns ever!
Deep breath in, cleansing breath out, deep breath in, and relax,
Sheila
is here to help: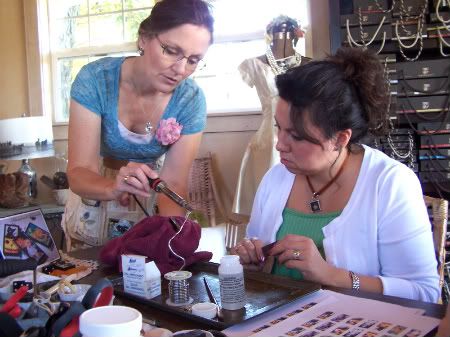 First, I chose a domino with two 6's on the back for my birth month, December: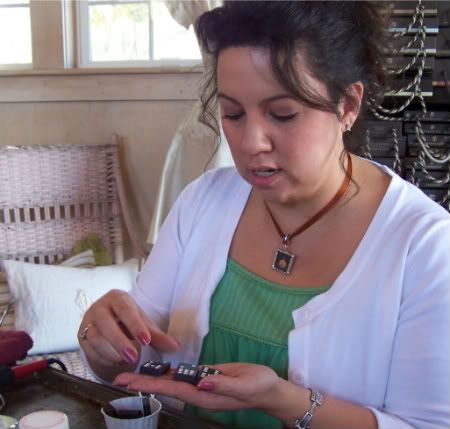 ... and after trimming the edges with adhesive backed copper strips (I didn't forget to burnish the strips against the domino), Sheila instructed me to paint on some flux, and pick up some lead with the soldering wand: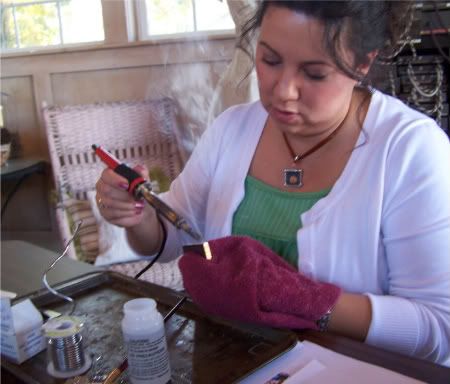 It wasn't quite like applying nail polish. Nor was it anything like curling one's hair. But it was fun, and awkward, and intriguing.
I think I'm going to ask Santa Claus for soldering goodies this Christmas. Oh yes.
(Sheila provided domino-sized images that could be cut out and Mod Podged onto the face of the domino- I chose a vintage-y little girl with a jack-o-lantern.)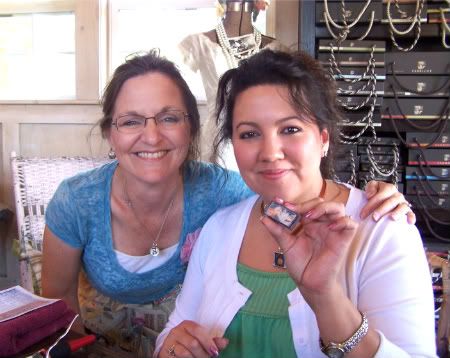 W-A-Y fun!
Thank you Sheila!
*****
Would YOU like to take a class from Sheila?
~ 10 a.m.-12 p.m. Found Treasures Charm Bracelet (wire wrapping techniques) $45
~ 1 p.m.- 3 p.m. A Crown Fit for a Queen (paper/fabric/millinery/bling)$45
~ 2:30 p.m.- 5 p.m. Let it Snow Banner (sewing on paper and using embellishments)$40
Call 816-858-0120 to register by
November 17, 2010