It's been months since I've blogged. The fact that I had to use the word "months" in my opening greeting to you instead of "days" or even "weeks" boggles my brain. I've missed writing, sharing, and blogging. I've missed seeing what you've been creating and discovering, and I've missed what
used
to be my weekend routine of sipping coffee, blog hopping, making a mess in my crafty nook, and photographing whatever transpired from playing with paper, ribbon and glue.
Let me catch you up, by which of course I also mean
let-me-have-that-feeling-that-I've-now-caught-up-and-can-relax-breathe-and-get-crafty again
.
If you read my last post (yes, yes,
m-o-n-t-h-s
ago), you'll remember we bought a house. It's pretty close to being our dream house, on property just large enough to add more of our "someday we'll have" elements. I'll have a garden, he'll add a shop. We've bought appliances and furniture. It's all very grownupish and wonderful.
But the move, the unpacking, the situating, and the tweaking have taken all of these months, instead of our usual one or two weeks. Why? Because as a military family, we've always managed to move over the summer, when I'm not working and the sun seems to give us a few extra minutes of daylight. Moving mid-year, when additional responsibilities at work are requiring
more time
has been tough, prolonging that not-quite-settled-yet feeling for me.
Military wives learn how to work hard and work fast to get their families settled, comfortable, and into a consistent routine after they've relocated, it's how this lifestyle works. I'm the woman who has to have artwork and photos on the wall sooner rather than later. Closets arranged, cabinetry organized, furniture zones established and comfy. "You have a lifetime to unpack now that you own your own house" is not advice that works for me, but it's a truth I've begrudgingly compromised with as day after day, the rooms remained unfinished.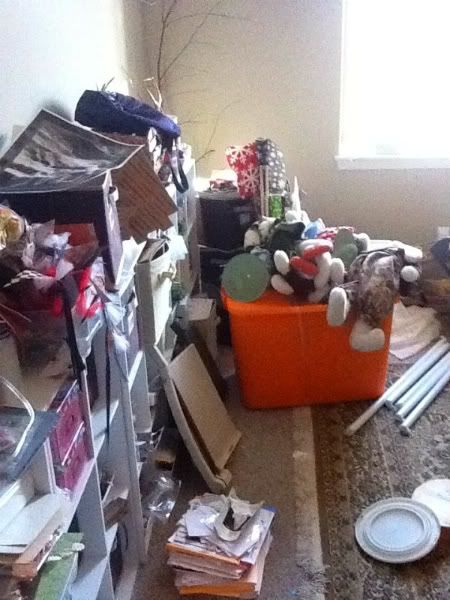 The last room to be touched was my crafty nook. The movers emptied all of the boxes after they piled the furniture into the back corner of the room. Magazines, paper, ribbons, buttons, hole punches, hot melt glue sticks, anything and everything was piled or strewn across every surface... it still makes me shudder to think about it. A few days after Christmas, I couldn't take it anymore. Unorganized and unusable are two things a crafty space should never ever be!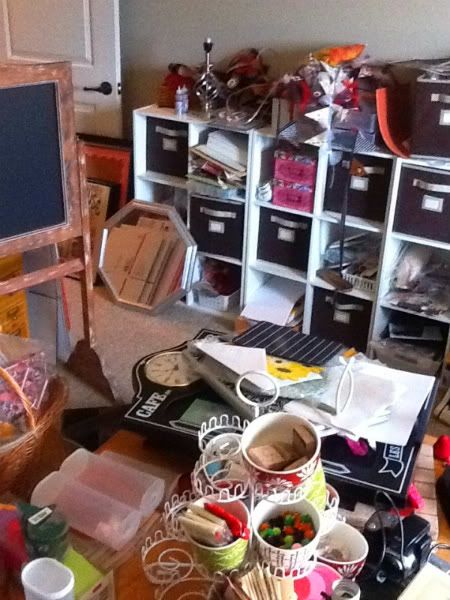 With help from Dear Daughter and Dear Husband (and many thanks to the Wii for keeping The Kindergartner occupied in the family room), things came together nicely: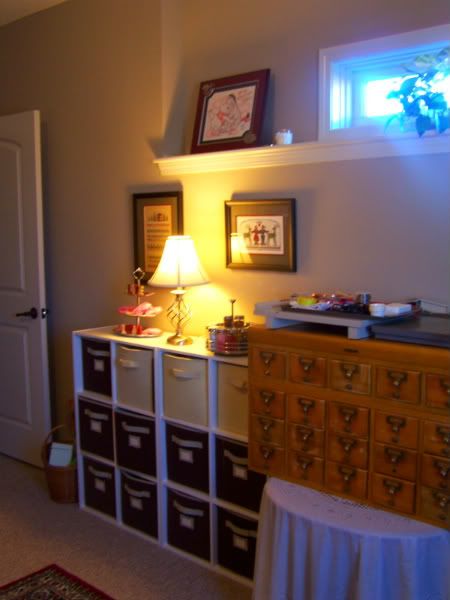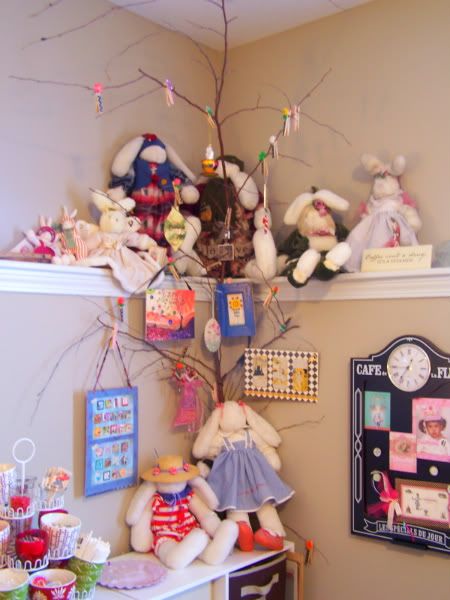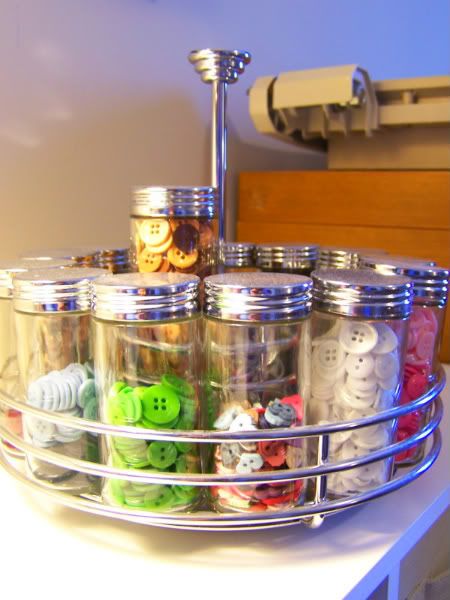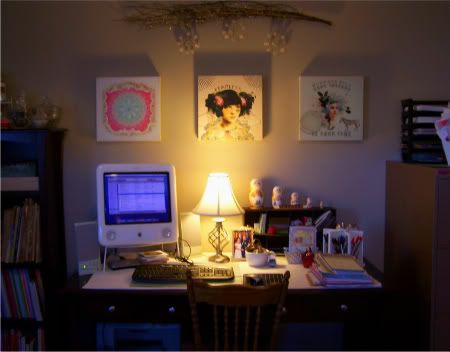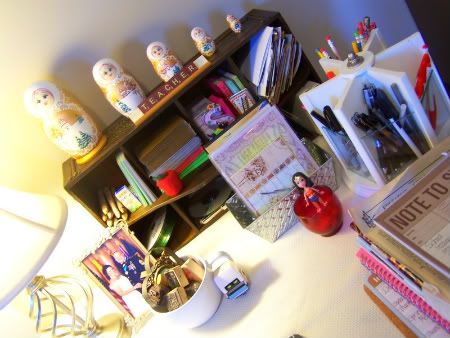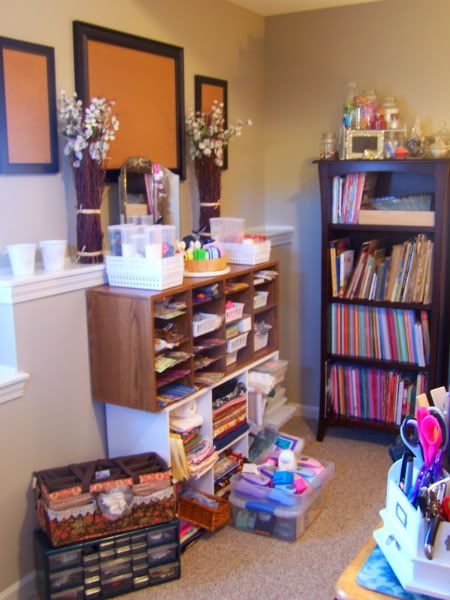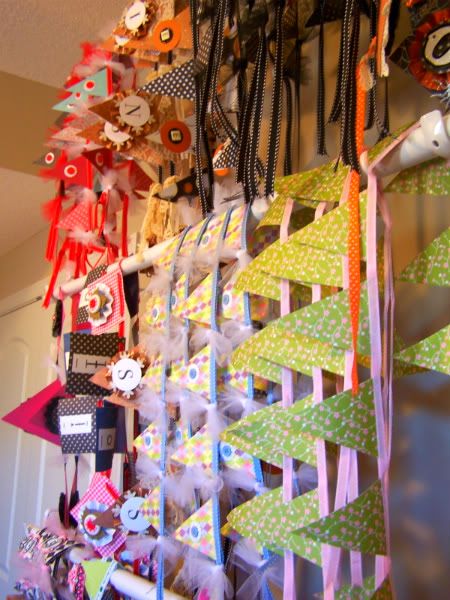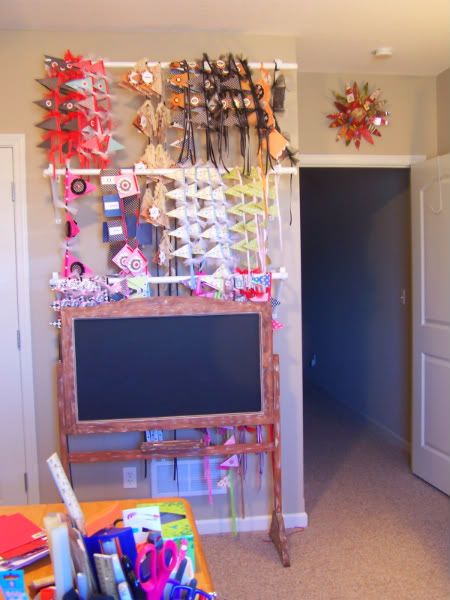 All I need now are a comfy reading chair, itty bitty table (just the right size for a small plate of nummies and a mug of coffee), and time to create and blog.
Until then, I'll take what I can get, and continue to pinch myself over the fact that what began several years ago as the crafty
nook
, has now become a craft
room
.