Off duty from teaching for the summer, I'm able to do a bit more baking in support of our
Family Readiness Group
and our deployed soldiers!
Round One: muffins!
Blueberry Banana Cream Cheese
and
Banana Cream Cheese Pecan
(with a
caramel sprinkle topping
)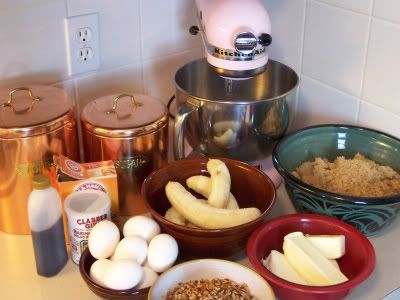 Round Two: cookies!
Oatmeal Raisin Spice
and
Chocolate Chip Oatmeal Pecan Candy Bar
Bake sales are great fund raisers, and it's easy to make nummy items even more attractive to potential buyers. Obviously it's important to handle all of the ingredients, baking tools and final tasty tidbits with care by washing those hands, cleaning surfaces, and following baking directions. It's also important to
bag and tag
the treats to be sold: bags keep germs, bugs and other gross stuff off of the food and informational tags make it possible for buyers to avoid possible allergic reactions: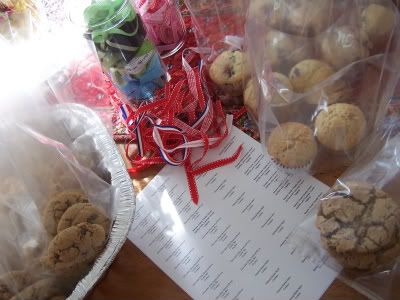 My extra ribbon scraps are put to good use tying each bag and make the cookies and muffins even more appealing to the eye... I guess I'm just not a fan of twist ties!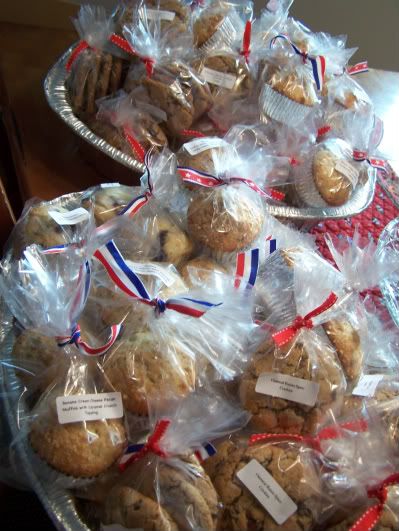 *****
I used clear cello bags (found in most grocery stores, WalMart, or craft and hobby stores), ribbon, and white address label stickers (2/3 inch by 1 and 3/4 inches;
Avery template
5195).