I love jewelry, especially charms. Charms on necklaces, charms on bracelets, "window" charms encasing beautiful imagery, sparkle, and typography... heavy charms, light charms, clang-y charms, jingle-y charms. Oh yes, bling is g-o-o-d.
Months and months ago, I had a quick
introduction to soldering with Sheila
out at
Farmstead
. As intimidating as it was to pick up a new-to-me crafting tool, Sheila shared reassuring tips as I worked, step by step, to solder around a domino. I left not only with a new autumn charm to wear, but with a new-found interest to learn more about wielding a tool I'd only ever seen used by large manly men as they did manly things.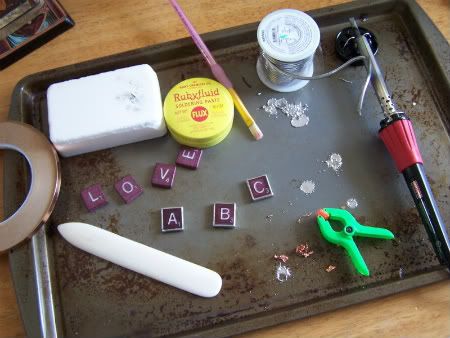 Dear Husband gifted me with a soldering wand several months ago, but it's taken until summer break for me to
work up the nerve
have the time to plug it in and try my hand at working with copper tape, flux, wire solder, sal amoniac, and my soldering wand.
Though small, I decided to use old Scrabble tiles for practice. After wrapping the letter "A" with copper tape, I decided to use a mini-clamp to keep my fingertips out of the way of the solder, which also made it easy to hold the tile as I worked.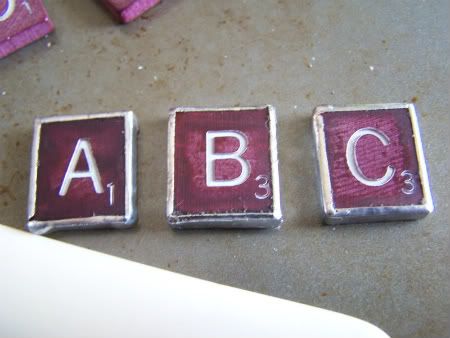 What did I learn with the letter "A?" ACCURACY matters: use enough copper tape to overlap at the ends. Cutting it short just won't work. See the gap?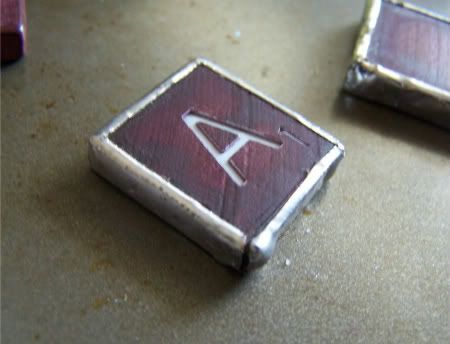 Letter "B" reminded me that I have to BURNISH the tape firmly to the wood or surface of my charm. See the BLUCKY BUBBLES and rough edges? Burnish, burnish, burnish, but do it carefully. I got a bit too aggressive and actually tore a bit of the tape instead of adhering it.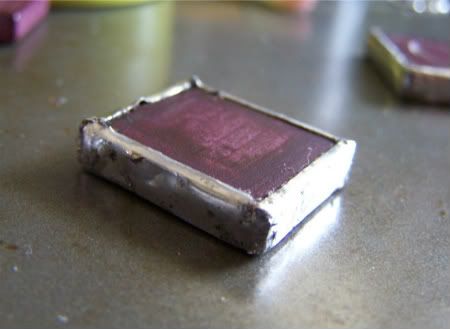 For letter "C," I slowed down, wrapped the tape CAREFULLY, burnished it using the flat side of my bone folder, fluxed evenly, and held the tile level as the solder cooled on each side. What an improvement!
I've got a long way to go before I'll feel that soldering has become another comfortable component of my craftiness, but hey:
I've started.
*****