Finishing the last book in
Gregory Maguire's Wicked Years series
had me thinking about Dorothy, her signature pinafore and dress in particular. Knowing how much I love sparkly footwear, it's a bit strange that glitter didn't come into play as I cut, glued and tied paper, ribbon, and buttons together to make a small swag of bunting. Never fear, I didn't omit
red
: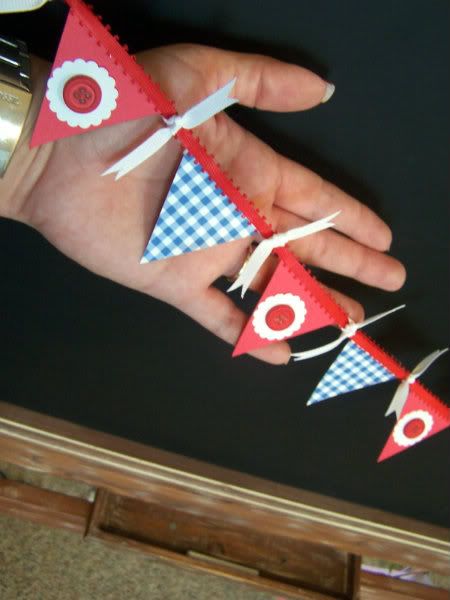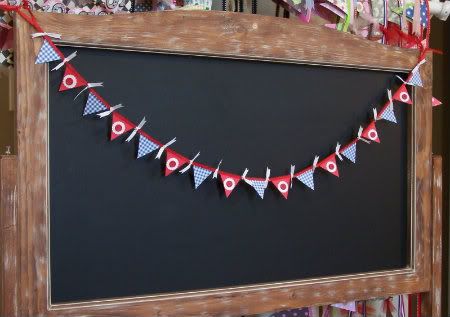 The bunting is 43 inches long with 8 inches of ribbon on either end for tying, and is made of scrapbook paper, cardstock, ribbon, and buttons. Whether you're a fan of Dorothy's adventures in Oz or you're looking for a sweet patriotic touch for your summer picnics and decor, this garland is one you'll enjoy using again and again.
~ 1 available
~ $7 (plus shipping; let me know if you'd prefer priority or standard rate)
~ email me at: michaelek1(at)yahoo(dot)com or find me on Facebook to purchase. Please use "Dorothy Bunting" in your subject/message line.
*****
Catching up on my blog reading, I've noticed that crafty souls not only sell their items from Etsy shops, Ebay and other dedicated shopping sites, but from their blogs as well. Can anyone shed some light on the pros and cons (other than the listing fees and audience size) of selling solely from a blog, or do you know of anyone who lists on his or her blog AND on Etsy? Thanks!
*****
(You were expecting Judy Garland, weren't you?)