After poring over each and every page of the Somerset Studio Gallery magazine
I came across in an arts and crafts store ten years ago
, I became inspired.
Inspired to try something new.
Inspired to create.
Inspired to learn more about other ways in which I could use the internet. I had learned how to use MySpace so that I could stay in touch with friends and family, and I had begun blogging there when I needed to get things off of my chest or express myself.
Now I had discovered that not only did many other people have blogs, but that they shared lots of different content with the world via their websites. One blogger shared recipes, another crochet patterns. I quickly learned about keywords, and how to search for specific topics on the web, and it wasn't long before I had a bookmark list a mile long and not enough hours in the day to read each and every post that had caught my eye. Paper crafting, sewing, painting, thrifting, baking, shopping, travel, home decor, and even education blogs were on my radar.
I enjoyed looking over posts that included lots of photos, especially those with do-it-yourself tutorials or suggestions on how to recreate an item. Following links to other sources became a happy scavenger hunt for me, and I often discovered additional wonderful blogs and their authors serendipitously.
Soon I just had to participate, by making AND by blogging.
I crocheted:
I sewed:
I baked and wrapped:
I gussied up plain Jane photo albums: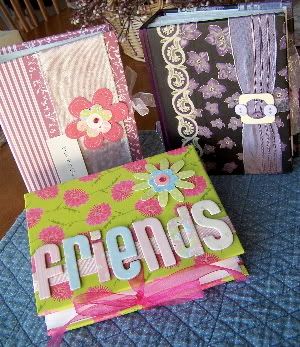 ... and I began making wreaths, introducing myself to the joys of tulle:
But the blogging template at MySpace just wasn't working for me, and many of the blogs I read were hosted by Blogger.com. Realizing that my teacher voice was also going to need a place for expression, I decided to create what was to me, my first ~official~, out-there-for-the-world blog.